Mobile aluminum runway stepladders
Mobile aluminum stepladders 8 to 10 steps.
Stepladder features:
raw extruded aluminum 100 x 30 mm – serie 6000
bearing handrail sliding over the full height
railings and removable ramp lacquered red
white lacquered frame
ribbed aluminum steps depth. 261 mm
anti-shock protection to the back of the bearing
fixed wheels Ø 300 mm at the rear
brake caster wheels at the front
2 immobilizing jacks
maximum permissible load: 1 person -150 kg.
An assembly according to EN 12 312-8.
Customer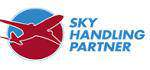 3D view of mobile runway stepladder