Our mobile access solutions for helicopters
Aluminum structure stepladders for specific access on helicopters: hold, cockpit, cabin etc.
The wheels are fitted with rubber tyres to minimise skid on resin floor surfaces: double locking swivel wheels with brakes. Some versions are equipped with an anti-tipover counterweight. Rubber protection on helicopter side. Load 1 person– 150 kg.
Discover some of our solutions
Mobile cockpit access stepladder
Dauphin N3 helicopter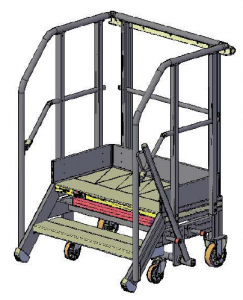 Mobile transmission access stepladder
W4 lightweight helicopter
Mobile hold access stepladder
H175 helicopter