Bespoke aeronautical equipment manufacturer
FORTAL is a market leader in designing and manufacturing aeronautical equipment ensuring at-height access and user safety.
Backed by our industrial experience in the field of metallurgy (steel and aluminum), we are renowned as specialists on the bespoke market. At FORTAL, we propose custom-built solutions meeting the exacting access specifications of aircraft manufacturing and maintenance in civil, military and business aviation, helicopters and satellites.
Mainly targeting technical and maintenance departments, FORTAL proposes product ranges in the following categories: docks and platforms, access stepladders, towable runway stepladders and door access.
Bespoke aeronautical equipment assembly workshop
A french specialist in aeronautical equipment with international outreach
A French family business located in Alsace, FORTAL designs, manufactures and markets its product ranges on the domestic and international markets with customers in Europe, North Africa and the Middle East.
FORTAL Aeronautics Division enjoys a long experience built up over the years through collaborating with aircraft manufacturers, aeronautical maintenance providers and airport runway and ground handling service providers.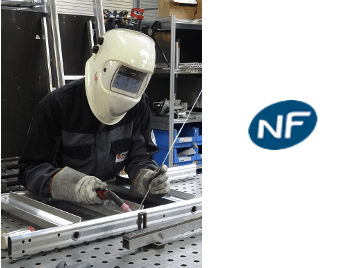 Our teams specialised in designing aeronautical equipment boast professional qualifications across the board.
All our products comply with ISI 14 122-1-2 and 3 standards. The equipment is implemented by certified assemblers and qualified welders according to the assembly techniques required (TIG – MIG – MAG). Our welders are NF EN 287-2 standard accredited.